Découvrez la synthèse de notre Enquête Voyageurs
Télécharger
Provide awesome passenger information
Zenbus offers a unique experience to public transit users. Where is my bus? is the number one question of all passengers. Being able to track the bus is key to attracting riders to public transit. Thanks to Zenbus, passengers can see where their bus is and exactly when it will arrive at the stop on any connected device, in real time. A unique real-time map provides geolocation information, giving riders exact data about lines and stops, the location of the vehicles, estimated times of arrival, deviations, disruptions, etc. This improves the passenger experience, allowing them to plan their trips with confidence. As our surveys show, riders say this makes their experience more enjoyable (34%), and that they are likely to take the bus more often (56%!)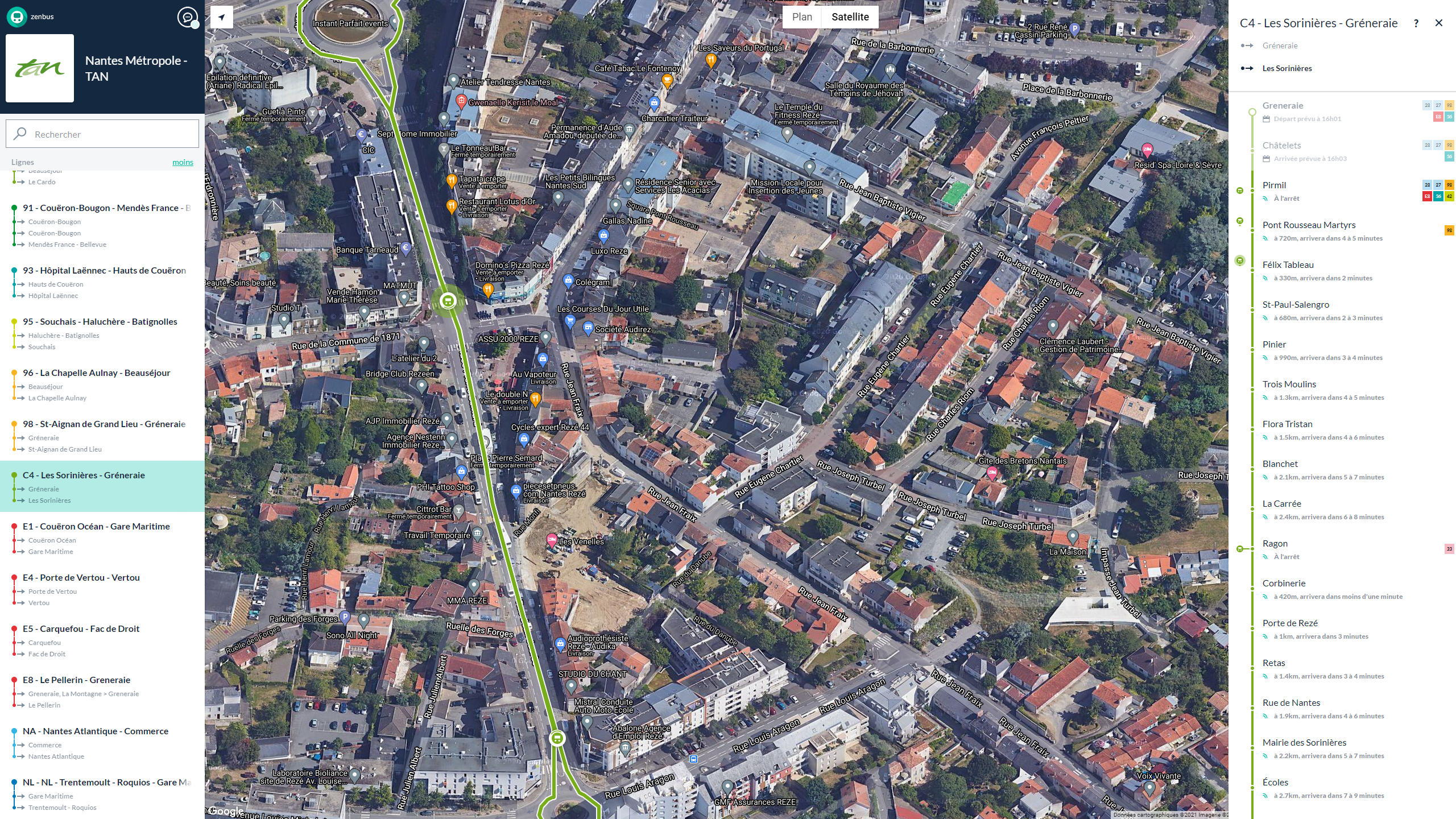 Offer 'multi-channel' and Mobility as a Service options
Everyone has their own habits when it comes to making mobility choices. From the most impulsive decisions, to the most carefully planned routes. This depends to a large extent on the transport offer, the tools and the data available. The key is to provide all these interfaces with reliable and consistent data. The city's app? The region's multimodal calculator? The most popular map apps? But also the display terminals at bus stops, the city's website, the display monitors at the town hall or the tourist office. How? Either with our iframe, or our Passenger Information Displays, or through our GTFS-RT and SIRI APIs.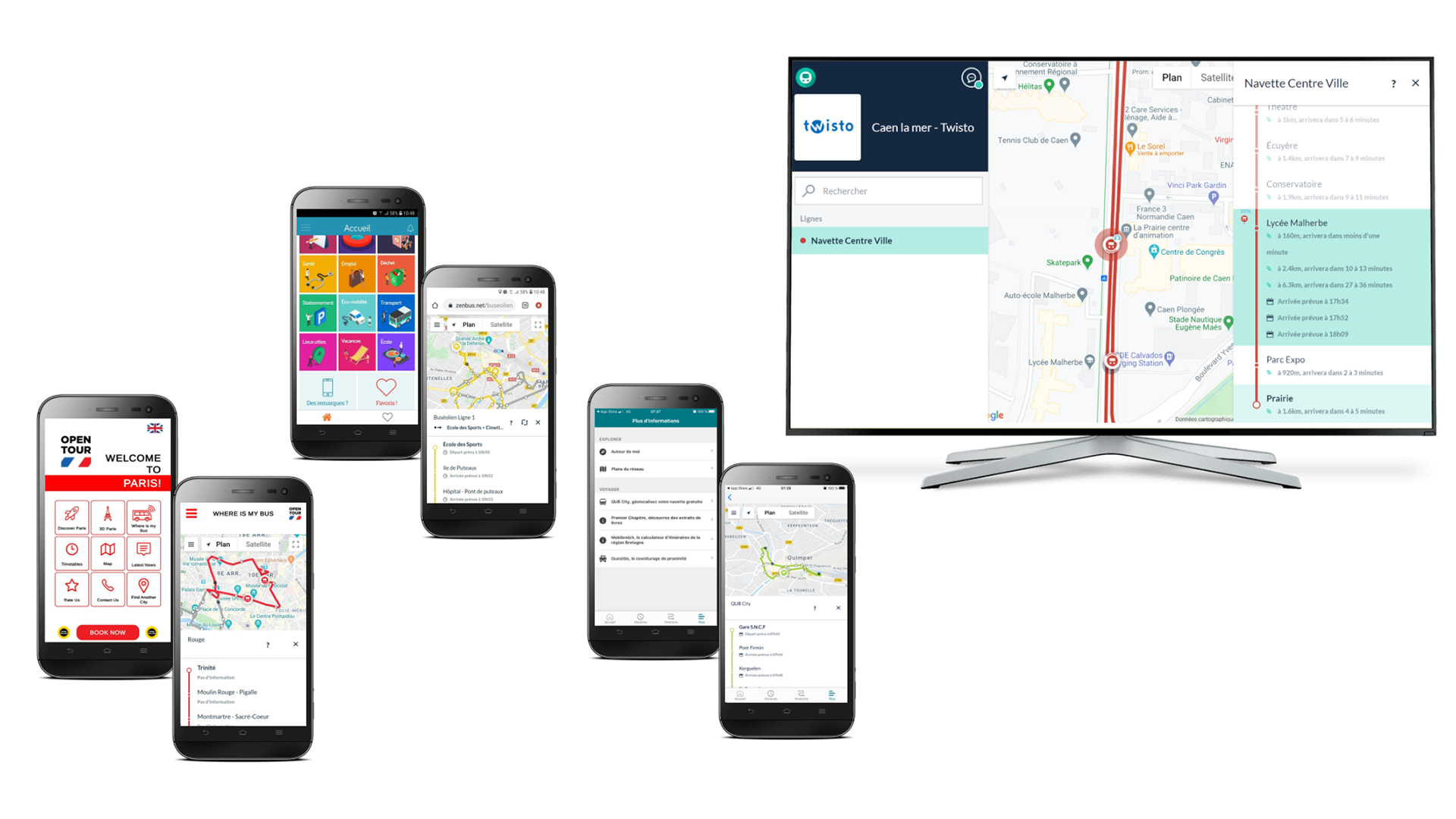 Our commitment to standardized open-source data is reflected in our active participation in providing open data, in particular to the French National Access Point for transportation-related data.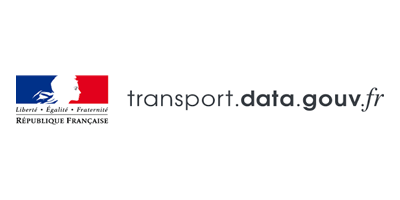 To find out more, read our blog post on MaaS.
Get feedback from your passengers
To attract more users, you need to know the mobility habits and expectations of your passengers. Zenbus helps operators and Transit Authorities take passenger surveys. With our high completion rates, you collect valuable data.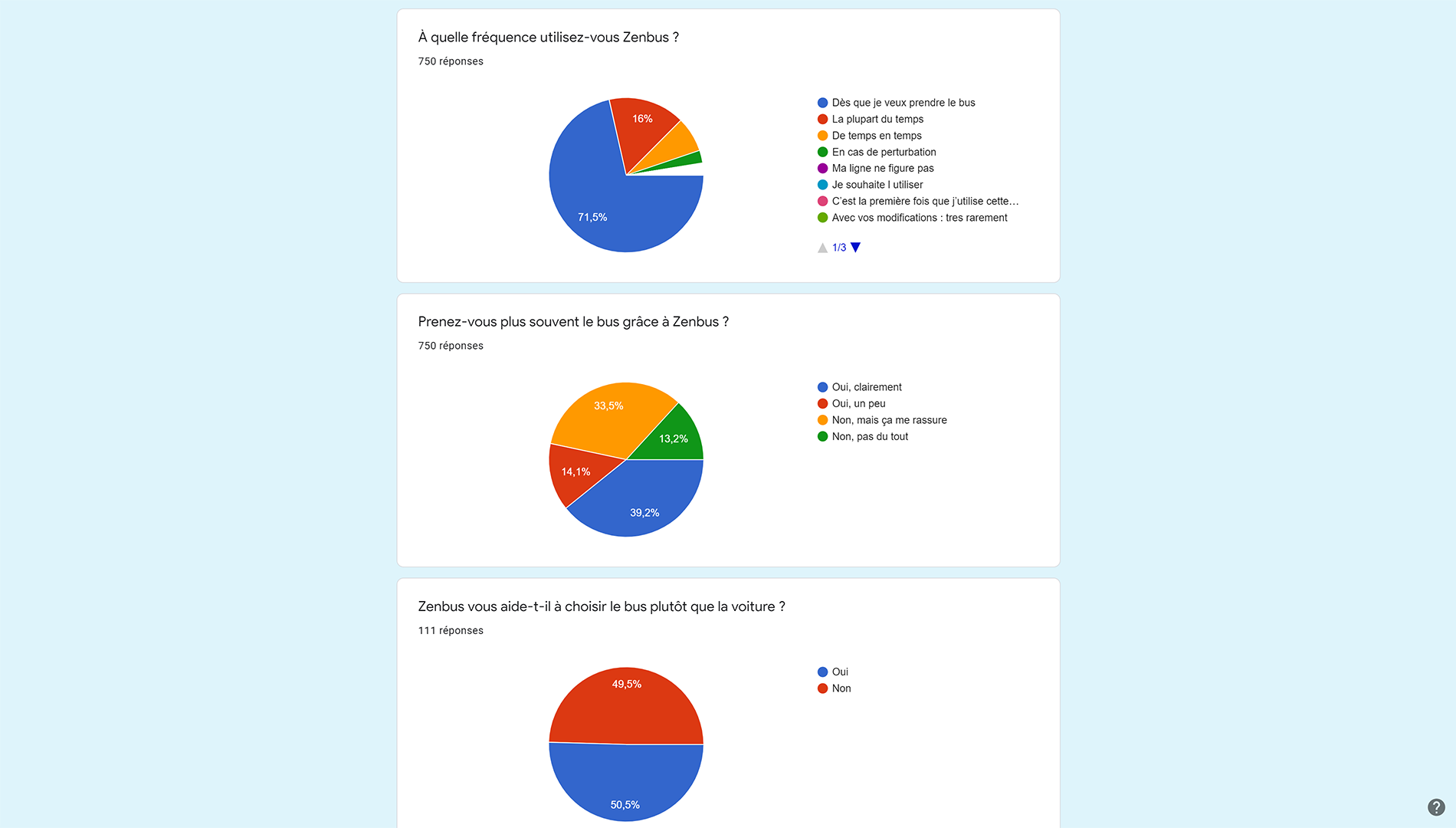 Analyse the uses
We provide you with accurate reports that tell you how the service is used so you can address actual passenger expectations. How do your passengers view our real-time information? On a smartphone? On a computer? How often? Which stops or lines are they interested in?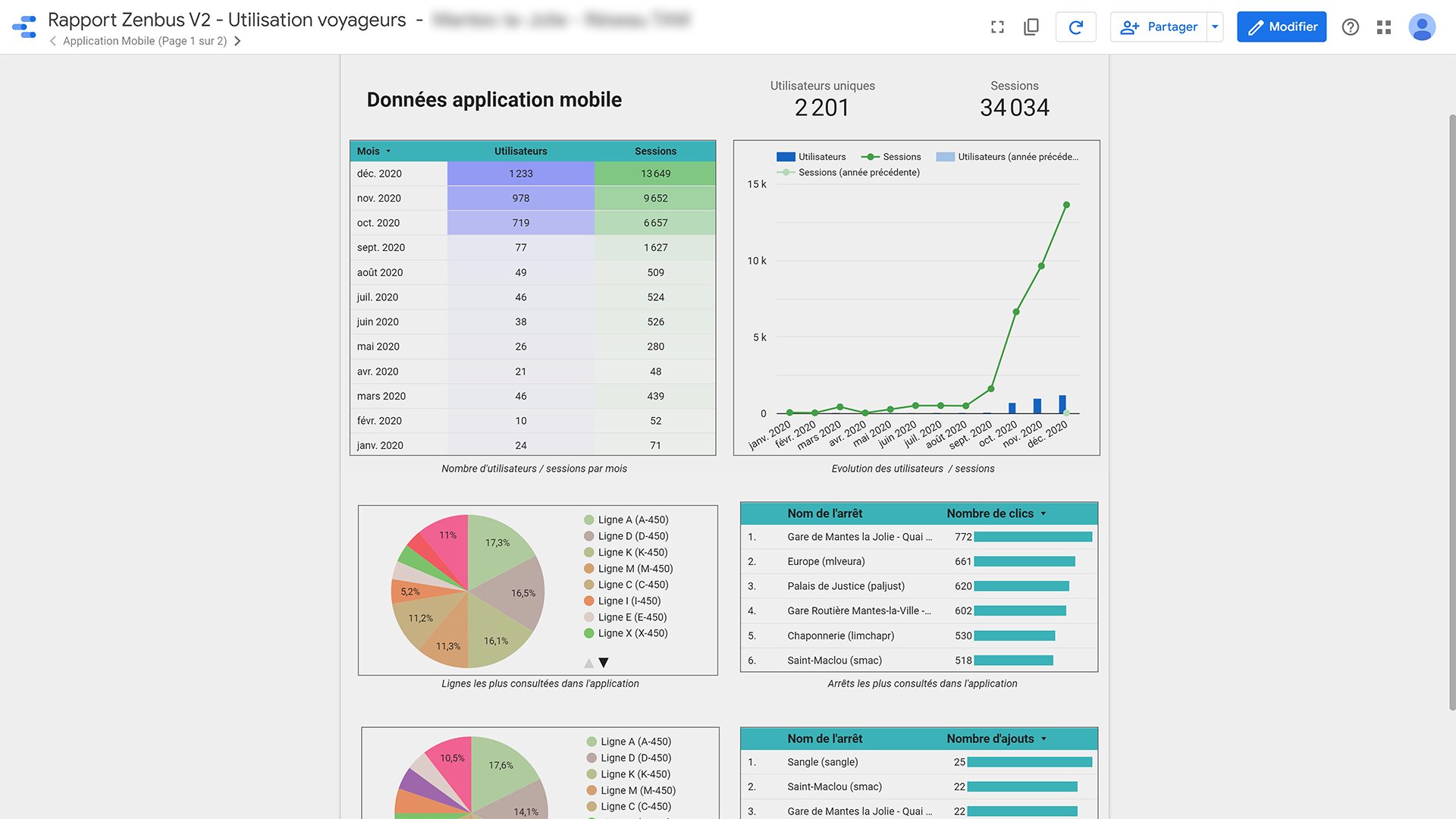 Innovate constantly
Digital technology allows pure players in the mobility sector to provide an optimized experience for their customers, like Uber, which, when it entered the market, was the only one to provide real-time geolocation of the approaching vehicle. Public transit must also respond to the growing demands of users: constant access to accurate, real-time information. More recently, the pandemic has raised the question of distancing and has made information about occupancy and crowding all the more necessary in real time.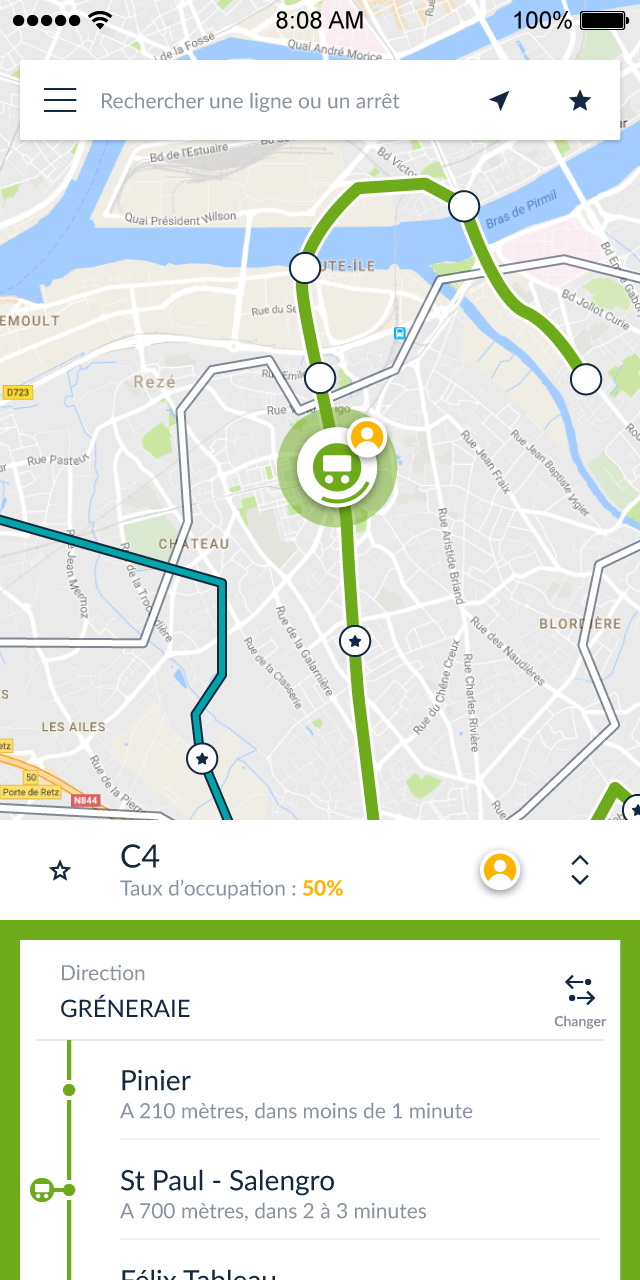 With Zenbus you can provide this information, so your passengers can feel safe while riding! Ultimately, we build our roadmap with our customers!